MaxCover 30G Tile Red Smooth Roofing Sheet
SKU
P-CCAZ-MX1015-025-100-PE-TLRD/BKGY-SPL
* We shall endeavour to have your order delivered or collected within 10 days. The lead time may however vary due to the nature of the product, availability of the product and logistical factors.
Maxcover 1015 is a box profile roofing sheet from MRM's stable of high-quality brands that offers a coating of an Aluminum-Zinc protective alloy on a carbon steel base which is pre-painted in controlled factory conditions. It offers consumers the benefit of a box profile with an effective cover width of 1015mm, offering a more economical sheet for budget-sensitive projects. Maxcover is ideal for domestic and light industrial or commercial applications.
When using Maxcover sheeting the recommended minimum pitch for roof slopes in excess of 15m is 10º and for slopes, less than 15m is 7.5º. To calculate the number of sheets [N] to cover a given area. Required, use the formula: N= W/1.015 where; W is the linear width of the roof in metres and N is the number of sheets.
Maxcover is pierce-fixed to timber or steel supports. This means that fastener screws pass through the sheeting. You can place screws for Maxcover through the crests or in the valleys. For walling, you may use either crest or valley fixing
Features and Benefits
Has an effective cover width of 1015mm.

Wide range of colours to choose from.

They are aesthetically appealing.

Has an anti-capillary groove to prevent leaking.

Comes in Gauge 28-30 and requisite accessories available.

Wide range of colours to choose from.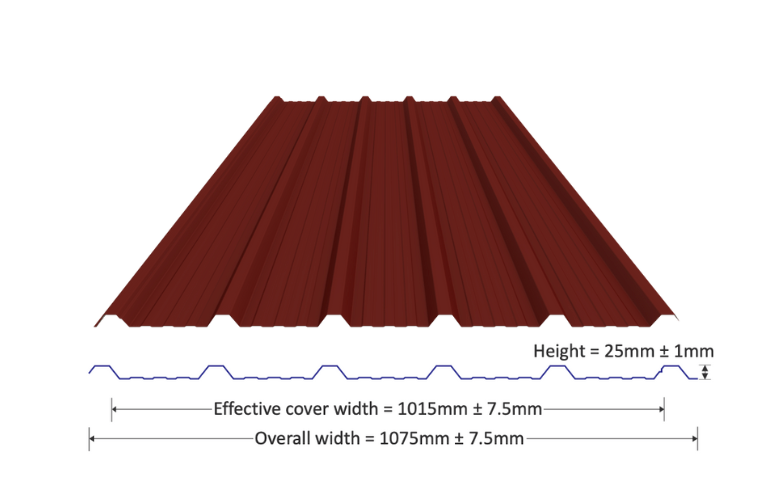 Specifications

| | |
| --- | --- |
| Colour | Tile Red |
| Effective Cover Width (mm) | 1015 |
| Thickness (mm) | 0.25 |
| Gauge | 30 |
| Warranty | Terms and conditions of sale apply |