Orientile 28G Charcoal Textured Roofing Sheet
SKU
P-CCAZ-OT1050-032-100-TX-CACH/BKGY-SPL
* We shall endeavour to have your order delivered or collected within 10 days. The lead time may however vary due to the nature of the product, availability of the product and logistical factors.
Orientile combines the exotic aesthetic of the orient with the widest coverage for economy and practicality. The shape is the embodiment of grace and distinction. A very popular modern-day choice. Orientile is an aesthetically pleasing steel sheeting profile that gives the look of an exotic tile finish.

The continuous length profile of the Orientile sheet increases the visual uniformity and reduces the chance of leakage. The lightweight material makes for easy and safe installation while enabling the supporting structure to be less bulky. If your roof is pitched from as low as 15 degrees Orientile would be a good choice for your project.

Each Orientile sheet is inspected over 6 times to receive the MRM Mark of Quality ensuring you only receive the best from us.
Features and Benefits
Continous length profile increases visual uniformity.

Reduces chance leakage.

Lightweight makes for safer installation and reduces the bulkiness of the supporting structure.

Engineered to prevent leakage by capillary action.

World-class patented coating technology.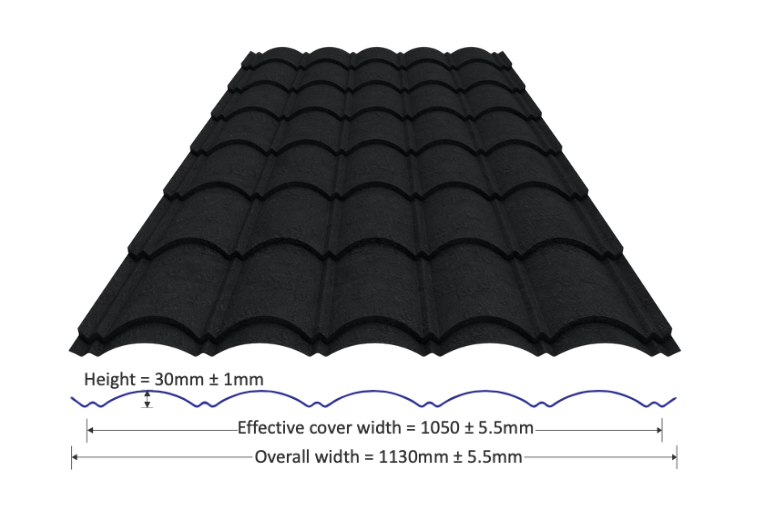 Specifications

| | |
| --- | --- |
| Effective Cover Width (mm) | 1050 |
| Thickness (mm) | 0.32 |
| Gauge | 28 |
| Colour | Charcoal |
| Warranty | Terms and conditions of sale apply |